CFIA Rennes: CANCELLED
Published on 09/12/2019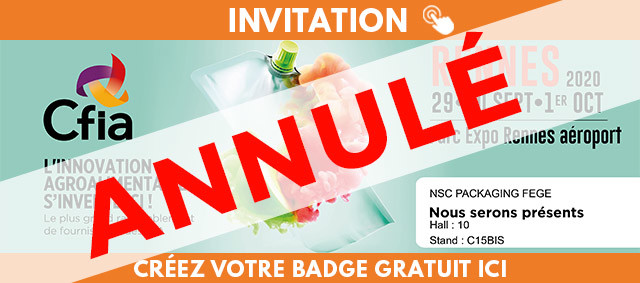 CFIA RENNES 2020 : Cancelled
We just learned that the CFIA in Rennes, which was supposed to start this Tuesday, September 29, has just been cancelled. Here is the official communication from the organizers:
"The CFIA Rennes, the leading event in the food industry, was due to open in a few days at the Rennes Airport Expo Park, for a 24th edition which was to take place on September 29-30 and October 1. Unfortunately, with death in the soul, we announce that following the last declaration of Health Minister Olivier Veran and the lowering of the gauge to 1,000 people, the CFIA Rennes is unfortunately cancelled".
We will therefore not have the pleasure of meeting you at the show, however the NSC PACKAGING FEGE team is always available to discuss your projects!